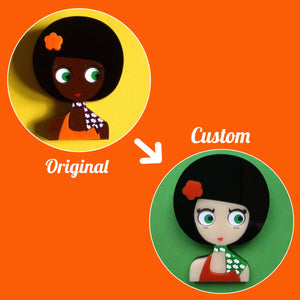 CUSTOM YOUR BROOCH!
Regular price
$6.00
$0.00
Tax included.
🎊 CUSTOMIZATION 🎊
Want to change the color of your brooch's clothes, hair, eyes or accessory?
Just add this to your cart and leave a note in your order telling me what you would like your girl to look like 🎨
For an extra 5€, you'll have your own customized -and unique- brooch!
Please note that skin color change is free :-) Just add a note to your order.
-------
🎊 CUSTOMISATION 🎊 
Vous voulez changer la couleur des vêtements, des cheveux, des yeux ou d´un accessoire de votre broche ?
Il suffit de l'ajouter à votre panier et de laisser une note dans votre commande en me précisant votre demande 🎨.
Pour un supplément de 5€, vous aurez votre propre broche personnalisée et unique !
Veuillez noter que le changement de couleur de peau est gratuit :-) Il suffit d'ajouter une note à votre commande
---
Share this Product
---
More from this collection